SHARING THE WORD
"The Call to Emulate Jesus"
October 10, 2021
"A woman who had been bleeding for twelve years came up behind Jesus and barely touched his clothes. She had said to herself, "If I can just touch his clothes, I will get well." Jesus turned. He saw the woman and said, "Don't worry! You are now well because of your faith." At that moment she was healed."
SERMON RECORDINGS
SEPTEMBER - OCTOBER WORSHIP EXPERIENCES
SERMON MAIN POINTS
October 2021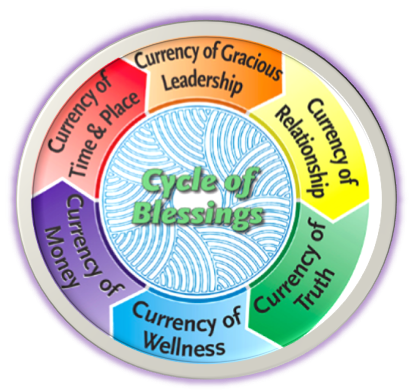 CYCLE OF BLESSINGS


As a congregation, The

Tabernacle of Glory bases our studies and principles on the Six Holy Currencies of the Cycle of Blessings through the lens of Acts 2:42-46:
The believers devoted themselves to the apostles' teaching, to the community, to their shared meals, and to their prayers. A sense of awe came over everyone. God performed many wonders and signs through the apostles. All the believers were united and shared everything. They would sell pieces of property and possessions and distribute the proceeds to everyone who needed them. Every day, they met together in the temple and ate in their homes. They shared food with gladness and simplicity. They praised God and demonstrated God's goodness to everyone. The whole city was favorable to them. The Lord added daily to the community those who were being saved.
The Cycle of Blessings, by author
Eric Law
, teaches how the six currencies of: time and place, gracious leadership, relationship, truth, wellness and money flow and recirculate to form a cycle of blessings to empower congregations as well as strengthen their internal relationships and to reach out and connect with the diverse populations in their neighborhood.
SIX HOLY CURRENCIES DEFINED
RELATIONSHIP:
The internal and external networks of mutually respectful connections that leaders and members of a church and ministry have. Internal connections include constructive relationships among members and leaders, area churches or ministries of the same affiliation, area denominational organizations, and national and international denominational structures.
External connections include constructive relationships with non-members, different racial, cultural and ethnic groups in the neighborhood, people with resources and people in need in the community, civic community leaders, ecumenical and interfaith partners, community and civic organizations, and local businesses.


GRACIOUS LEADERSHIP:

The ability to use skills, tools, models, and processes to create gracious environments (Grace Margin) within which mutually respectful "relationships" and the discernment of the "truth" across differences an be built internally, among existing members, and externally, with non-members. Differences can be racial, ethnic, age, gender, sexual orientation, class, political affiliation, or simply those existing between church members and other folks in the neighborhood.
Download Cycle of Blessings Definitions