SHARING THE WORD
June 19, 2022
"Blessings, Achievements, and Accomplishments"
Psalms 1:1-3 "Blessed is the man who walks not in the counsel of the wicked, nor stands in the way of sinners, nor sits in the seat of scoffers; but his delight is in the law of the Lord, and on His law he meditates day and night. He is like a tree planted by streams of water that yields its fruit in its season, and its leaf does not wither. In all that he does, he prospers.
Philippians 4:8 "Finally, brothers, whatever is true, whatever is honorable, whatever is just, whatever is pure, whatever is lovely, whatever is commendable, if there is any excellence, if there is anything worthy of praise, think about these things."
Philippians 4:13 "I can do all things through him who strengthens me."

Proverbs 3:5-6 "Trust God from the bottom of your heart; don't try to figure out everything on your own. Listen for God's voice in everything you do, everywhere you go; he's the one who will keep you on track. Don't assume that you know it all.

Proverbs 75:6 "For promotion cometh neither from the east, nor from the west, nor from the south, but promotion comes from the Lord.
WORSHIP SCRIPTURES, PRAYERS, SERMON POINTS, AND VIDEOS
June 19, 2022
Worship Scriptures
Old Testament:
Deuteronomy 8:8 "The LORD himself goes before you and will be with you; he will never leave you nor forsake you. Do not be afraid; do not be discouraged."
New Testament Gospel:

Matthew 5:16 "In the same way, let your light shine before others, so that they may see your good works and give glory to your Father in heaven."
New Testament Epistle:
Galatians 6:10 "So then, as often as we have the chance, we should do good to everyone, and especially to those who belong to our family in the faith."
Worship Prayer-La oración de adoración
Dear God, we give You sincere thanks for the rest of the past night and for the gift of a new day, with its opportunities to pleasing You. You created us for this time and place. Please use us for Your glory that everything we do and say might be a testimony of who You are and that we belong to You. By Your grace and with Your help, may our lives be an act of praise and worship to You!
Querido Dios, te damos sinceras gracias por el resto de la noche pasada y por el regalo de un nuevo día, con sus oportunidades para complacerte. Tú nos creaste para este tiempo y lugar. Por favor, úsanos para Tu gloria que todo lo que hacemos y decimos sea un testimonio de quién eres Tú y de que te pertenecemos. ¡Por Tu gracia y con Tu ayuda, que nuestras vidas sean un acto de alabanza y adoración a Ti!

We praise You for human connections with one another. Thank You God, for the company of our friends and loved ones. How blessed it is that we can find communities of like-mind and like-Spirit to share and express ourselves and share this life with.
Te alabamos por las conexiones humanas entre nosotros. Gracias, Dios, por la compañía de nuestros amigos y seres queridos. Qué bendicion es que podamos encontrar comunidades de mente y espíritu afines para compartir y expresarnos y compartir esta vida.

I pray today that You will build our faith so strong that we can stand up to adversity. I ask that we may be empowered with Your faith so that we may see the possibilities. We praise You and give You glory; we bless You for calling us to be Your holy people. We praise You and give You glory, for the wonderful things You do for us; for life and health, for friends and family, and this splendid day. In the name of Jesus, Amen.
Oro hoy para que construyas nuestra fe tan fuerte que podamos hacer frente a la adversidad. Te pido que seamos empoderados con Tu fe para que podamos ver las posibilidades. Te alabamos y te damos gloria; te bendecimos por llamarnos a ser tu pueblo santo. Te alabamos y te damos gloria, por las cosas maravillosas que haces por nosotros; por la vida y la salud, por los amigos y la familia, y por este espléndido día. En el nombre de Jesús, Amén.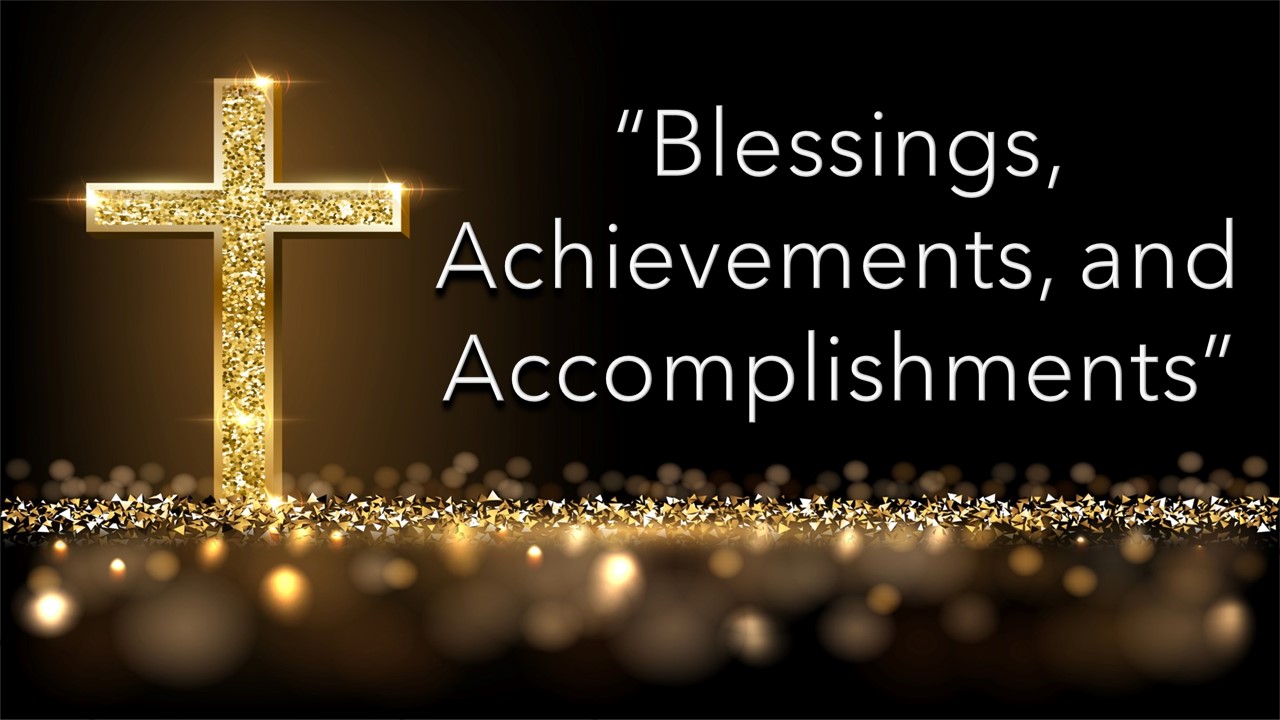 June 19, 2022

I show my gratitude to God for my blessings, achievements, and accomplishments when I reach back and I reach out, to pull others to where I am.
Worship Scriptures and Prayer:
Worship Scriptures
Old Testament:
Proverbs 21:2-3 "We justify our actions by appearances; God examines our motives. To do righteousness and justice towards others mean far more to God than religious performance."
New Testament Gospel:

Matthew 23:23 "How terrible it will be for you legal experts and Pharisees! Hypocrites! You give God a tenth of mint, dill, and cumin, but you forget about the Law's more important matters: justice, peace, and faith. You ought to give a tenth but without forgetting about those more important matters.""
New Testament Epistle:
Galatians 2:10 "All they asked was that we should continue to remember the poor, the very thing I had been eager to do all along."
Worship Prayer-La oración de adoración
All-wise God, thank You for another day. We have gathered this morning; allow Your spirit to fill our very being. You have been our dwelling place in all generations. Even from everlasting to everlasting, You are God, and our hearts are filled with Your praise.
Most gracious and loving God, we remember the struggles of people of every culture and nation. Help us know and remember the hurts of exclusion and prejudice, but we know that You can inspire each of us to work more faithfully for justice and dignity of life everywhere.
We thank You that Your love extends to every ethnic group, all genders, race, color, and socio-economic classifications. Please give us the personal courage to listen to their concerns and help them find solutions.
Remind us that we are most human when we see the humanity in others, and we are most godly when we see God's image in others. Lord, we know that Your heart is for the whole world, for every tribe and language, for every race and ethnicity.
Lift our hearts to see that You long to have the circle of unity spread outward through the whole world. Lift our eyes in hope as to what can be and to what one day will be. In the name of Jesus, Amen.
Worship Scriptures and Prayer:
Worship Scriptures
Old Testament:
Exodus 15:1 "Then sang Moses and the children of Israel this song unto the Lord, and spoke, saying, I will sing unto the Lord, for he hath triumphed gloriously: the horse and his rider hath he thrown into the sea."
New Testament Gospel:

Matthew 11:28-29 "Then Jesus said, "Come to me, all of you who are weary and carry heavy burdens, and I will give you rest. Take my yoke upon you. Let me teach you, because I am humble and gentle at heart, and you will find rest for your souls."
New Testament Epistle:
Galatians 3:28 "There is neither Jew nor Greek, there is neither slave nor free, there is no male and female, for you are all one in Christ Jesus."
Worship Prayer-La oración de adoración
Dear Heavenly Father, we desire to learn how to worship You as You deserve. We give You praise and worship Your holy name. We call You Father because we love You. We are glad to be called Your children, and to dedicate our lives to the service that extends through willing hearts and hands to the betterment of all mankind.
Querido Padre Celestial, deseamos aprender a adorarte como te mereces. Te alabamos y adoramos Tu santo nombre. Te llamamos Padre porque te amamos. Estamos contentos de ser llamados tus hijos y de dedicar nuestras vidas al servicio que se extiende a través de corazones y manos dispuestos para el mejoramiento de toda la humanidad.

We send a cry of Thanksgiving for people of all races, creeds, classes, and colors the world over, and pray that through the instrumentality of our lives the spirit of peace, joy, fellowship, and brotherhood shall circle the world.
Enviamos un grito de acción de gracias por las personas de todas las razas, credos, clases y colores en todo el mundo, y rezamos para que, a través de nuestras vidas, el espíritu de paz, alegría, compañerismo y hermandad rodee el mundo.

We know that this world is filled with unrest and uneasiness, but help us, Father, to so unite our efforts that we may all join in one harmonious symphony for peace, justice, and equality of opportunity for all of humanity.

Sabemos que este mundo está lleno de inquietud e inquietudes, pero ayúdanos, Padre, a unir nuestros esfuerzos para que todos podamos unirnos en una sinfonía armoniosa por la paz, la justicia y la igualdad de oportunidades para toda la humanidad.

We bless You for our creation, preservation and all the blessings of this life, but above all we worship and thank You for sending Your Son Jesus to be our Lord and Savior. In the name of Jesus, Amen.
Te bendecimos por nuestra creación, preservación y todas las bendiciones de esta vida, pero sobre todo te adoramos y te agradecemos por enviar a Tu Hijo Jesús para ser nuestro Señor y Salvador. En el nomber de Jesus, Amen.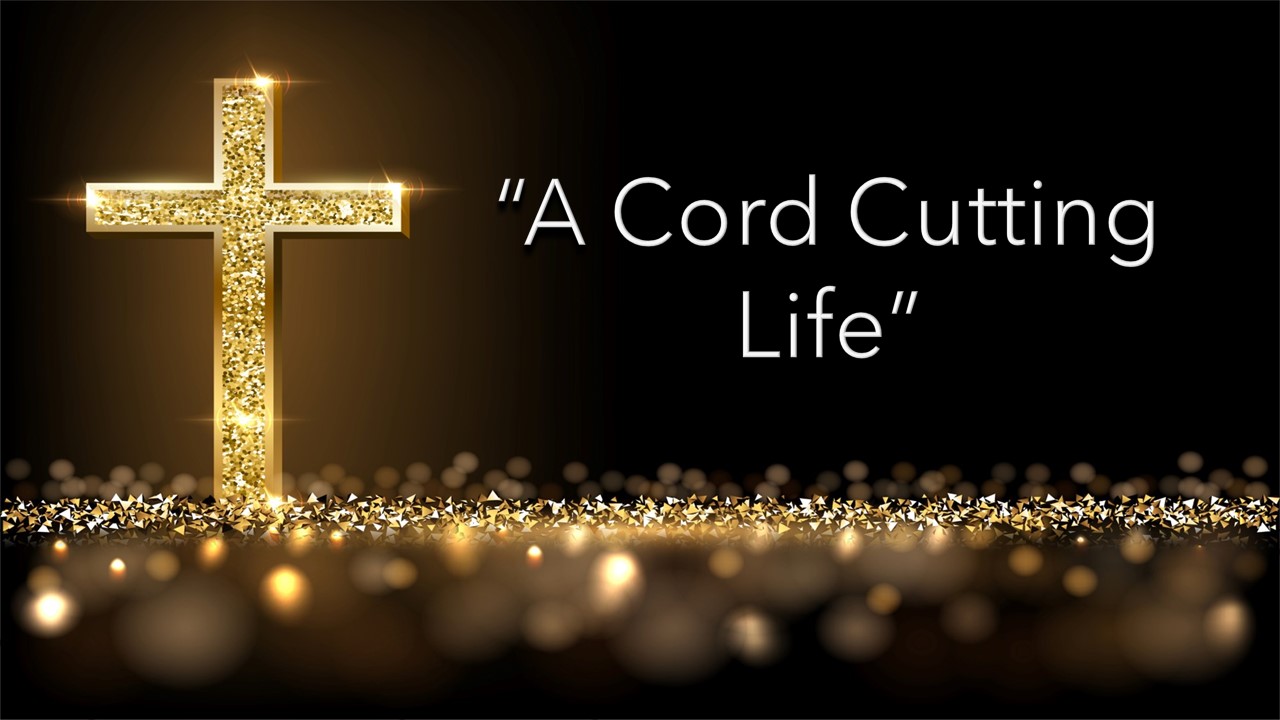 June 12, 2022

"It rains on the just and the unjust. The sun shines on the just and the unjust."

June 05, 2022

Amazingly enough, the smallest contributions can make the biggest difference. An act of kindness costs me nothing but is priceless to the recipient. I will be kind to someone today.
FORMER SCRIPTURES, PRAYERS, and POINTS
Worship Scriptures and Prayer:
Worship Scriptures
Old Testament:
Isaiah 11:4 "He will give justice to the poor and make fair decisions for the exploited…"
New Testament Gospel:
John 8:36 "So if the Son sets you free, you are truly free."
New Testament Epistle:
2 Corinthians 3:17 "Now the Lord is the Spirit, and where the Spirit of the Lord is, there is freedom."
Worship Prayer-La oración de adoración
Almighty and all-wise, God our heavenly Father, we have been spared to assemble ourselves here once more through Your goodness and mercy. We are alive and healthy enough to gather and worship You through Your goodness. God, take the lead of our minds and place them towards Your will.
God, with all that is going on in the world, we pray for peace. If there is to be peace in the world, there must be peace in the nations. If there is to be peace in the nations, there must be peace in the cities. If there is to be peace in the cities, there must be peace between neighbors. If there is to be peace between neighbors, there must be peace in the home. There must be peace in the home if there is to be peace in the heart.
We pray for peace during this Memorial Day Weekend. We offer prayers for the men and women who serve and have served our country in military service. Bless us beyond measure and fill us with Your peace. May everyone have happiness and the causes of happiness; may everyone be free from sorrow and the causes of unhappiness.
Let Your kingdom come, and Your presence be manifest in our lives. As we gather, visit us with Your presence and help us increase our knowledge of You. Today is all we have. We will rejoice, be renewed, learn from the past, cherish today, and welcome the future. In the name of Jesus, Amen.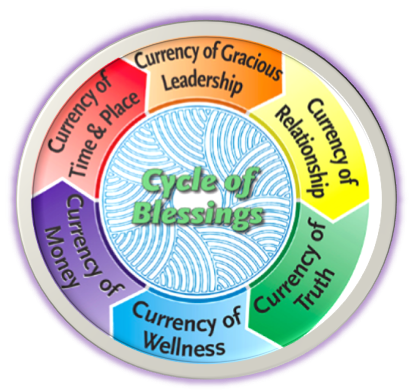 CYCLE OF BLESSINGS


As a congregation, The

Tabernacle of Glory bases our studies and principles on the Six Holy Currencies of the Cycle of Blessings through the lens of Acts 2:42-46:
The believers devoted themselves to the apostles' teaching, to the community, to their shared meals, and to their prayers. A sense of awe came over everyone. God performed many wonders and signs through the apostles. All the believers were united and shared everything. They would sell pieces of property and possessions and distribute the proceeds to everyone who needed them. Every day, they met together in the temple and ate in their homes. They shared food with gladness and simplicity. They praised God and demonstrated God's goodness to everyone. The whole city was favorable to them. The Lord added daily to the community those who were being saved.
The Cycle of Blessings, by author
Eric Law
, teaches how the six currencies of: time and place, gracious leadership, relationship, truth, wellness and money flow and recirculate to form a cycle of blessings to empower congregations as well as strengthen their internal relationships and to reach out and connect with the diverse populations in their neighborhood.
SIX HOLY CURRENCIES DEFINED
RELATIONSHIP:
The internal and external networks of mutually respectful connections that leaders and members of a church and ministry have. Internal connections include constructive relationships among members and leaders, area churches or ministries of the same affiliation, area denominational organizations, and national and international denominational structures.
External connections include constructive relationships with non-members, different racial, cultural and ethnic groups in the neighborhood, people with resources and people in need in the community, civic community leaders, ecumenical and interfaith partners, community and civic organizations, and local businesses.


GRACIOUS LEADERSHIP:

The ability to use skills, tools, models, and processes to create gracious environments (Grace Margin) within which mutually respectful "relationships" and the discernment of the "truth" across differences an be built internally, among existing members, and externally, with non-members. Differences can be racial, ethnic, age, gender, sexual orientation, class, political affiliation, or simply those existing between church members and other folks in the neighborhood.
Download Cycle of Blessings Definitions